ORGANIC NEEM DRY LEAF

Neem leaf are dried and placed in cupboards to prevent insects, and also in rice storing tins. Dry neem leaves are extensively used in Ayurveda, Unani and Homoeopathic medicine for the treatment of inflammation, infections, fever, skin diseases and dental disorders. Neem leaves and their constituents possess immune-modulatory, anti-inflammatory, anti-hyperglycaemic, antiulcer, anti-malarial, antifungal, antibacterial, antiviral, antioxidant, anti-mutagenic and anti-carcinogenic properties. Terra Neem dried leaves also used to make tea gives you medicinal properties through out your day and will keep you with antioxidant properties.
NOTE:
1.Neem leaf tea should not be consumed by pregnant women.
NEEM DRIED LEAF TEA CUT
Neem Tea Cut Dried Leaves commonly used for making tea at any time of day and is often drunk for medicinal properties.
𝐂𝐀𝐅𝐅𝐄𝐈𝐍𝐄 𝐅𝐑𝐄𝐄 – Best Ever Neem Crushed Leaves, Suitable to make Neem Tea which is caffeine free.
𝑹𝑬-𝑺𝑬𝑨𝑳𝑨𝑩𝑳𝑬 𝑷𝑶𝑼𝑪𝑯 – Size 250 Gram, 500 Gram, 1Kg, 5KG
𝐇𝐎𝐖 𝐓𝐎 𝐌𝐀𝐊𝐄 – Pour 1 cup of water into a saucepan and bring to a boil. Pour the water over required amount of crushed neem leaves. Strain the tea and Serve in a cup.
𝐅𝐋𝐀𝐕𝐎𝐔𝐑 𝐘𝐎𝐔𝐑 𝐓𝐄𝐀 – You can flavour your tea with your choice of flavouring, including Lemon Juice and Honey.
TASTE – Very bitter on its own value, also you can blend with other herbs.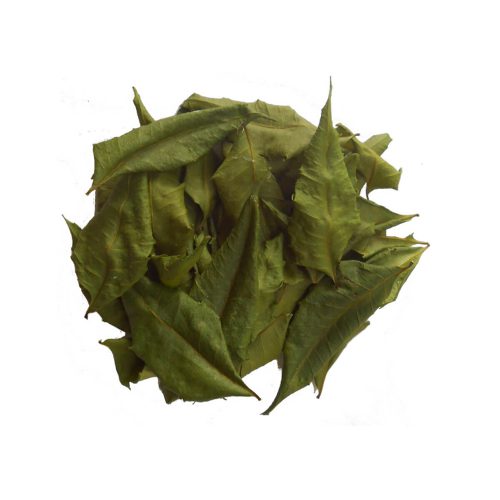 SUPPLEMENT FACTS

FEATURES
No Artificial Binders, filters or excipients
No ingredients of animal origin
BULK PACKING SIZES
HDPE Bags / PP Bags with Inner Cover with your brand name.
Bulk Packing Sizes: 10Kg, 20Kg, 25Kg and 50Kg
Small Packing Sizes: 250Gram, 500Gram, 1Kg, 2Kg, 3Kg, 5Kg