ORGANIC NEEM LEAF POWDER

Neem Leaf Powder 100% Pure & Natural Processed from Wild harvested (Wildcrafted) Neem. Wildcrafted is not cultivated but sourced from the Natural forests. We procure Neem Leaves from a region that is hundreds of miles away from industrial footprints.
Fresh neem leaves are washed and oven dried at a temperature of 65°C to remove the moisture before grinding them in a pulveriser.
We do not employ the economical conventional sun drying technique. Our process retains maximum bitters and Azadirachtin in the Neem Powder. We offer neem tablet and neem capsule form as well.
Hence, our neem leaves are free from impurities due to industrial pollution. Neem is a rich source of antioxidants. Neem purifies blood. Neem supplement is beneficial to eyes, skin and hair. Neem is an Internal Detoxifier. Neem Powder can be used as a Hair Pack with Henna to control Dry Scalp Conditions. Neem Helps to control Itchy Scalp, thereby Helping to Control Hair Loss due to Dry Scalp Conditions. Neem can be used in Face Packs along with Fuller's Earth, Aloe Vera and Manjishtha. Neem Face Pack helps in controlling Acne, Pimples and Dry Skin Conditions. Neem Hair Pack along with Henna, Brahmi and Bhringaraj helps in controlling Hair Fall and Reduces Itchy Scalp Condition.
Neem leaf are dried and placed in cupboards to prevent insects, and also in rice storing tins. Dry neem leaves are extensively used in Ayurveda, Unani and Homoeopathic medicine for the treatment of inflammation, infections, fever, skin diseases and dental disorders. Neem leaves and their constituents possess immune-modulatory, anti-inflammatory, anti-hyperglycaemic, antiulcer, anti-malarial, antifungal, antibacterial, antiviral, antioxidant, anti-mutagenic and anti-carcinogenic properties
Note:
1.Neem leaf tea should not be consumed by pregnant women.
Supports Healthy Immune System*
Natural Internal Detoxification Support*
Promotes Healthy Bllod Circulation*
Helps Optimixe Digestive System*
Help Regulate Blood Glucose Levels*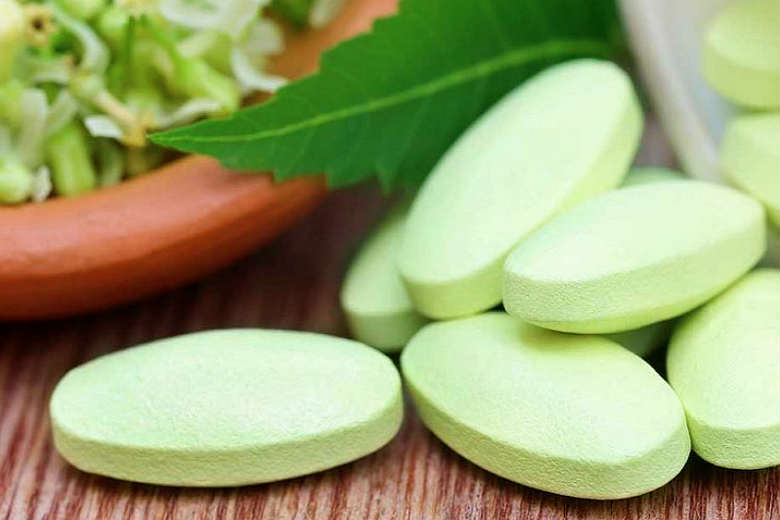 OTHER FEATURES
Only Fresh Neem Leaves are used in our Neem Powder.
APPLICATIONS

LOADED WITH ALL THE NATURAL GOODNESS OF NEEM:
Neem is considered a wonder herb of Ayurveda. Organic Veda Neem Leaf Powder contains a high potency, vitamins, and minerals like manganese, vitamin B6, iron, copper, fiber, and potassium, making it the best natural alternative to improve your overall health and well-being.
PROMOTES HEALTHY, GLOWING SKIN FROM WITHIN: Our skincare powder proves to be a miracle for skin. Neem powder has anti-aging properties and contains unique compounds like Nimbin and nimbidin, especially when it comes to skin health. With their antioxidant properties, neem leaves protect your skin. When used as a face pack it effectively helps to promote clear and radiant skin by reducing skin impurities.
COMPLETE HAIR-CARE SUPPORT: With our organic neem powder, you can improve the strength, quality, and growth rate of your hair naturally. It protects and helps in controlling hair fall and reduces itchy scalp condition When used in the form of a paste, it stimulates the scalp, nourishes hair follicles, and encourages healthier and faster hair growth.
STRENGTHEN YOUR IMMUNE SYSTEM: This immune support supplement is packed with alkaloids and limonoids that help eliminate toxins from your body and bolster your immune function naturally. Pure neem leaf powder is also known as a systemic purifier, supporting the natural cleansing mechanisms and can help maintain a healthy digestive tract for better absorption of nutrients.
DIRECTIONS FOR USE: This hair and skin supplement is made from the finest quality, carefully selected 100% pure raw and fresh Neem leaves organically grown in India. For effective results, mix ¼ to ½ teaspoon with warm water, once or twice daily, or as directed by your health practitioner. For flawless hair and clear skin, mix 2 teaspoons of neem powder with water. Apply the mask onto your face, neck, or hair evenly, let it dry and wash off in 20 minutes.
PACKING SIZES

Bulk Packing Sizes: 10Kg, 20Kg, 25Kg and 50Kg
HDPE Bags / PP Bags with Inner Cover with your brand name.
Small Packing Sizes: 250Gram, 500Gram, 1Kg, 2Kg, 3Kg, 5Kg